CyberSecurity Success Stories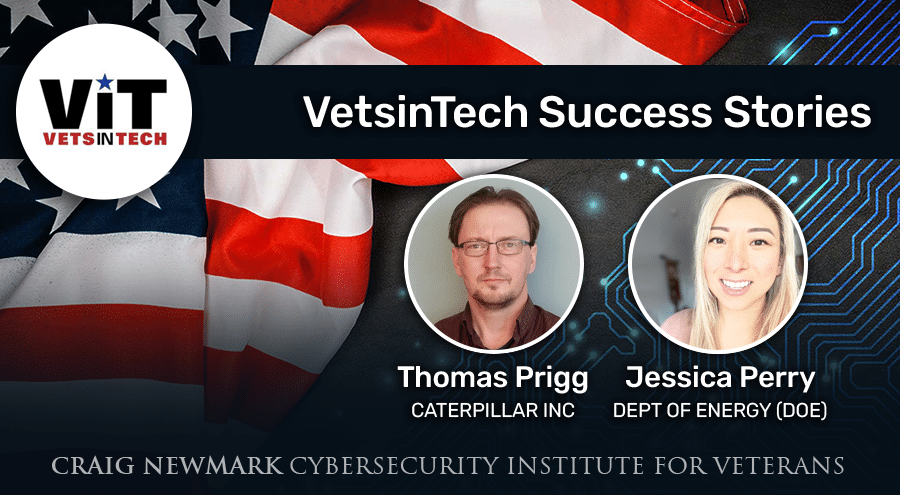 Thomas Prigg
Thomas Prigg recently accepted a security engineering position at Caterpillar, working in cybersecurity and helping identify and stop intrusions by analyzing data logs using some of his skills learned through VetsinTech. Caterpillar Inc. is Fortune 100 company and the world's largest construction-equipment manufacturer.
Prigg had grown up in poverty and credited the Army with pulling him out of that situation and putting him on a path to build a career in tech. After his military service serving as a paratrooper in the U.S. Army, Prigg went to college to pursue a career in neurobiology. Then Prigg decided to change careers and go into Cybersecurity to get more financial stability and pursue his interest in technology. "Cybersecurity pays extremely well. Don't be surprised if your starting salary is ninety thousand dollars," says Prigg. He contrasts the cybersecurity role to his previous position, which he characterizes as "a low paying job that was pretty boring and provided few feelings of accomplishment.".
VetsinTech was instrumental in helping him get there. Prigg says he kept taking as many courses from VetsinTech as he could, focusing on building his cybersecurity and cloud computing skills and certifications. "Certifications are gold," says Prigg, and encourages other VetsinTech cohorts to take projects from their VIT courses and add them to their portfolio. His coursework included SEC+, AWS Cloud, and front-end development. And he is currently improving his Python skills with VetsinTech as preparation for the VIT Machine Learning course.
"VetsinTech has been fantastic and has helped me get critical training that I needed for recruiters to even notice me," says Prigg. To summarize his experience with the VIT Academy, "I've been able to fill in a lot of holes in my general knowledge that I needed."
Jessica Yoo Perry
Jessica Yoo Perry served in the U.S. Coast Guard on activity duty for 11 years and 8 of those years was at sea. After leaving the military, she continued advanced studies, pursuing two graduate degrees, including an MBA from Duke University and an Industrial Engineering M.S. degree from the University at Buffalo. Upon graduating, Jessica worked for the federal government, including time as a patent examiner at the United States Patent and Trademark Office (USPTO). Afterward, she joined a software company in a senior analyst role.
Shegot involved with VetsinTech through the many educational programs and special events available to veterans. Jessica bolstered her technical skills even more. She took courses in front-end development and cloud computing, which sharpened her talents ever more, enabling her to pursue more technical roles.
Meanwhile, Jessica began networking at some of our online events. After our VetsinTech Invasion, Amazon reached out to Jessica for a potential job opportunity. Although she was short-listed for Amazon's final round of interviews, Jessica ended up accepting a full-time IT position as a cybersecurity specialist with the U.S. Department of Energy (DOE).
---