VetsInTech in Colorado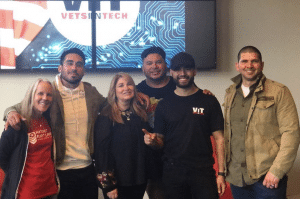 VetsInTech kicked off the Colorado Chapter in partnership with Galvanize and will be launching events and classes to cover all of the 3 E's: Entrepreneurship, Employment and Entrepreneurship.
Education: Full scholarship for web dev, cybersecurity and other technical certifications.
Employment: Score your dream job with our extensive list of Tech Giants and sponsors like Google, Linkedin, Facebook and others.
Entrepreneurship: Join the Silicon Valley ecosystem, attend Y Combinator startup school and meet face to face with CEOs/mentors for invaluable advice and guidance.
VetsInTech CEO ,Katherine Webster, spoke at JSA, Joint Service Academy Cybersecurity Summit in Colorado.
---