VetsinTech Fall 2016 Gala
4 Nov 16 @ 6:00 PM

-

11:00 PM

UTC-8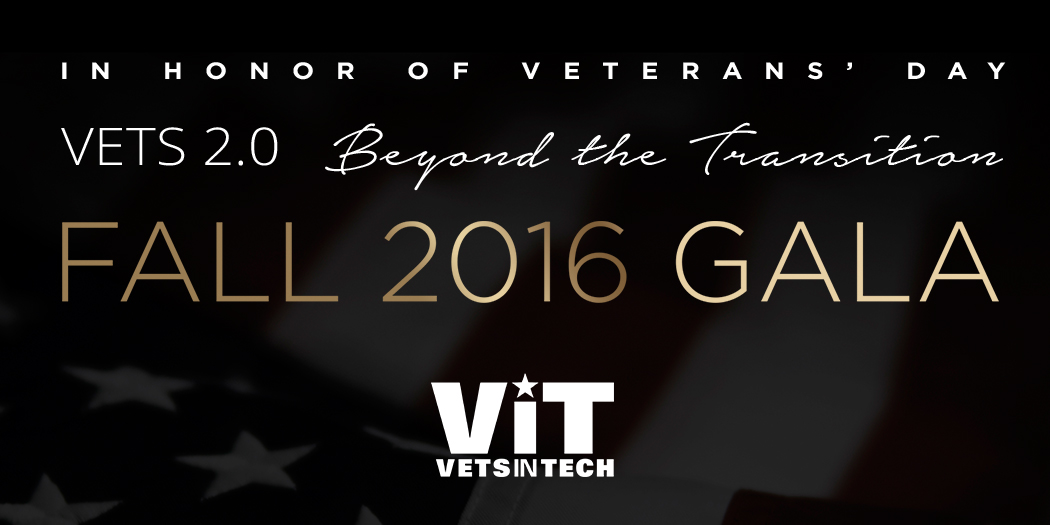 2016 HOST COMMITTEE

Marc and Laura Andreessen
Marc Benioff
Mayor Edwin Lee (San Francisco)*
Craig Newmark (Craigslist Founder)
Ron Conway
Maj. General Mike Myatt (USMC – retired)
Congresswoman Nancy Pelosi – House Democratic Leader*
*Honorary

GALA FUNDRAISER
Gala Time: 6pm – 9pm
After-Party: 9pm-11pm 
Join us on Friday, November 4, 2016, at the Marines' Memorial Club in San Francisco to celebrate Veterans' Day and our 2nd Annual Vets 2.0 "Beyond the Transition" Fall Gala in support of VetsinTech. The gala will be filled with Fall magic that will include a sponsor reception, dinner, entertainment, awards, raffles and both live and silent auctions. The dress code will be semi-formal.Funding is met through donations received from individuals, service groups, businesses and corporations. The incredible ongoing support of the community helps us to continually enhance our innovative and effective programs for veterans in the technology eco-system.
VETERAN'S STRUGGLE TO FIND EMPLOYMENT
About 2.6 million Americans have served in the Iraq and Afghanistan conflicts. But the people who have made some of the greatest sacrifices in the post-9/11 era, also are the ones struggling the most with unemployment today.While the latest national jobless figure is 4.7 percent, the rate for new veterans is much higher — 5.8 percent. With the end of the war in Iraq and the current drawdown in Afghanistan, more than 1 million service members either have left the military or are projected to transition out in the next five years. We work hard to match veterans with unfilled jobs in high tech. Our education programs also help our veterans translate skills learned in the military to the tech workplace & communicate their qualifications to prospective employers.

EDUCATION

Here at VetsinTech we feel passionate about the education of our veterans. We are focused on those vets that already have shown an interest and aptitude for working in the tech industry. That is not just around coding, but operations, project management, product management, legal, business, marketing and finance or other fields within the tech industry. When veterans return from their service, they bring with them an amazing set of skills such as leadership, strong work ethic, and teamwork. 

ENTREPRENEURSHIP

We realize that not all returning veterans want to get a job in the industry and some would rather work for themselves. Around half (48%) of returning veterans would prefer to start their own businesses. At VetsinTech, we organize various entrepreneur programs including hackathons, pitch events, visionary and leadership speaker series, local meetups and networking events, and business plan competitions. 

ABOUT VETSINTECH

VetsinTech is an independent non-profit organization made up of technology industry leaders and former men and women in service who support our current and returning veterans with re-integration services, and by connecting them to the national technology ecosystem. ViT is committed to bringing together a tech-specific network, resources, and programs for our veterans interested in Education, Entrepreneurship, and Employment – the 3E's!
VetsinTech has grown to 12 veteran led chapters across the U.S. in just 3 years, gained support from approximately 20 of top tech companies to hire veterans and developed training programs with tech ecosystems that hire thousands of veterans. As a result of funding VetsinTech, there is now a community of thousands of veterans both interested and working in technology careers – many helping future returning veterans into tech jobs around the country. VetsinTech has been recognized by the White House and Department of Labor for our innovation and leadership in creating new programs for veterans in entrepreneurship, employment, and education and have received two Certificates of Honor from the City and County of San Francisco.

Your support is greatly needed to meet the demand of our returning veterans and help them achieve a higher quality of life.
For more information please visit our website at http://www.vetsintech.co
We welcome sponsorship opportunities.
Please click here for more info
SPONSORS
Your generous support of VetsinTech will help ensure our 2nd annual Gala is a success. By participating in this event as a Sponsor, you'll get exposure and access at a high-profile event drawing hundreds of influential supporters, along with plenty of media attention. Sponsors will also enjoy ongoing visibility to an audience of prominent philanthropists, corporate leaders and public officials through our pre-event, on-site, and post-event communications. Whatever level of assistance you choose to give, we sincerely thank you for supporting ViT, the veterans we help, and companies, organizations, and communities we impact.