VetsinTech Invasion National Conference 2023
31 Mar @ 9:00 AM

-

6:00 PM

PDT

Free
VetsinTech Invasion National Conference 2023
VetsinTech Invasion National Conference 2023
Education + Employment + Entrepreneurship
About: 
Join us as we bring veterans, active duty, and military spouses from around the country for a day of panel discussions, workshops, and networking with leaders from Silicon Valley's most innovative companies.
Speakers: 
For speaker and session details, visit: https://events.vetsintech.co/invasion2023/
Conference Tracks:
NOTE: Current schedule and speakers subject to change
Employment:
Secrets from the Inside: Advice from recruiting and talent executives.
Optimizing LinkedIn for your Job Search: Profile guidance and networking tools.
Putting your Best Foot Forward: Hear from vets who have landed in tech.
Advice from Vet Recruiters: How to navigate your job search post service.
Demystifying Tech: Learn about various jobs in tech and different roles in a tech company.
Education:
Careers in Cybersecurity: Why veterans are uniquely positioned to benefit from cyber roles.
Women VetsinTech: Transition support for the fastest growing vet population.
New Technologies Trends: AI, Machine Learning, Robotics & Drones.
Social Impact: Using business to create positive outcomes.
VetsinTech Training Classes: Web Dev and Cybersecurity.
Entrepreneurship:
Entrepreneurship Milestone Mapping
Business Law Basics: Setting up your entity, equity, and avoiding pitfalls.
Product Management
Veteran Entreprenuer Panel
VetCap – Capital for Veterans: Fundraising options and opportunities for Veterans.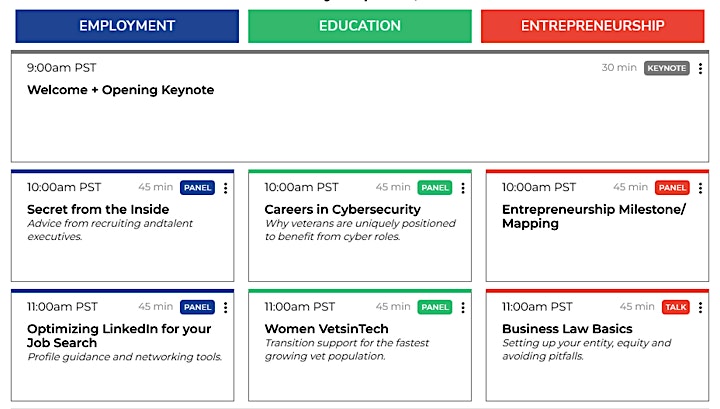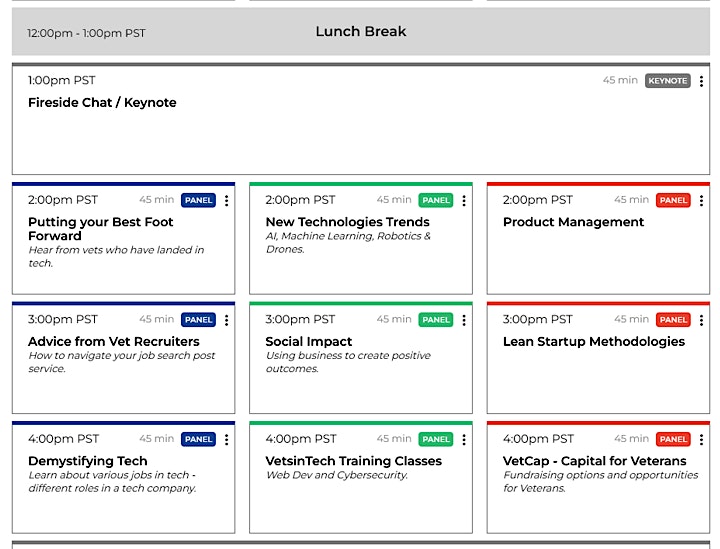 Related Events